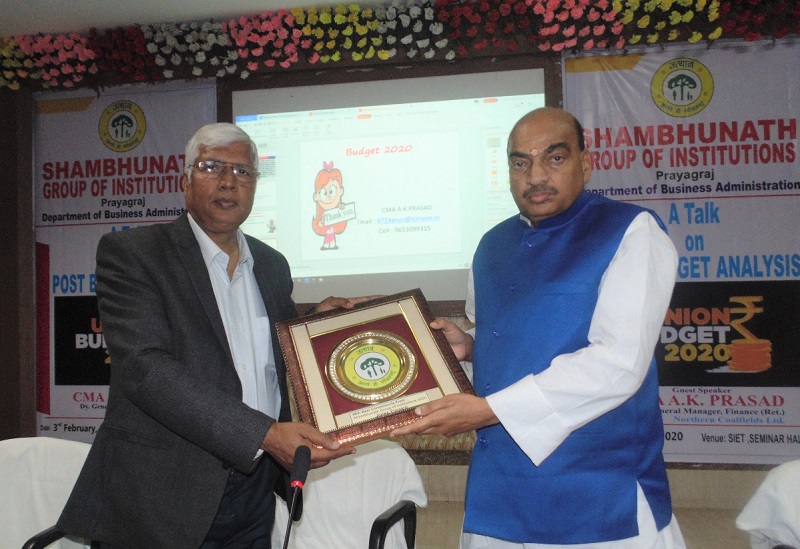 Conducted On:
Uploaded On:
View Photos »
A
TALK
ON
POST BUDGET ANALYSIS
Organized by:- Department of Business Administration
Date: - 3rd February 2020
Duration:- 02Hours
Time:- 10:30A.M to 12:30P.M
Venue:- SIET Seminar Hall
Guest Speaker: - CMA A K Prasad, FCMA.
Arun Kumar Prasad is a practising Cost Accountant who heads one of the leading Cost Accountant firm in Allahabad – AK Prasad & Co. He has served the Coal Industry for more than 32 years in various capacities and retired from the post of Dy. General Manager (Finance) in Dec.'2014.
Event summary
A discussion on Post Budget 2020. An event which elaborates the boom and slackness of budget. In which our guest speaker elaborated the various dimension of budget (banking, education, agriculture, industry, real estate, automobile) etc.
The Key Highlights of Union Budget 2020-21 are as follows:
Three prominent themes of the Budget:-
Aspirational India - Better standards of living with access to health, education and better jobs for all sections of the society.
Economic Development for all - "Sabka Saath , Sabka Vikas , Sabka Vishwas".
Caring Society - Both human and compassionate; Antyodaya as an article of faith.
Three broad themes are held together by: Corruption free, policy-driven Good Governance, o Clean and sound financial sector. Ease of Living underlined by the three themes of Union Budget 2020-21.
Learning Outcomes
The experience from the event had a profound influence on the students. The overall learning experience was very helpful in comprehending the difference between the previous and the current budget.
Students could analyze the complications which the new Budget 2020 brings in the tax structure with the addition of three income tax slabs and the removal of tax exemptions and deductions.