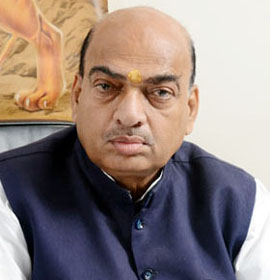 Dr. K. K. Tewari
Secretary - UTTHAN
Our mission at SGI is that every student of ours becomes a success story and will create a history
Constantly ranked as one of the top group of institutions in Uttar Pradesh, ShambhunathGroup of Institutions has completed more than a decade with great success as a premier technical and professional institution. It has emerged as one of the most preferred group of institutions in the field of Engineering, Management, Pharmacy, ITI, B.T.C & LL. B.
At SGI, we benchmark only against the best institutions around the world. Our faculty and senior team members attend Seminars, Workshops and travel to imbibe the best practices, so that we can give our students a solid foundation for learning.
The extensive campus, spread over about 25 acres, is well-built,stronglyprotected andattractivelyplanned. Located about7km.awayfromAllahabad Junction and 3km. from Allahabad Airport, ithasallthebasicfacilities,whichastudentlooksfor.
With an aim to remain quality conscious, efficient and responsive to today's rapidly changing economic and technological developments, SGI has taken up the challenge not only to provide technical and corporate training to the students, but also make them self-confident and better human beings with leadership qualities.
Being amongst the best education providers in Dr. A. P. J. Abdul Kalam Technical University, our results have been exemplary, both from Merit as well as Placement perspective.Ten batches of B. Tech, Nine Batches of MBA and Eight Batches of B. Pharm. have already passed out. 89% of our present batch students have been placed in the best organizations of the country both in the government as well as corporate interface. Many have gone abroad for higher studies.
Since its inception Shambhunath Group of Institutions has continuously been making efforts to be a bench mark at several areas of education. Keeping this view in the mind, in the present year we are coming up with three new Institutes i.e. Shambhunath College of Law (SCL) Shambhunath College of Education (SCE)and Institute of Agriculture Technology (IAT). We are determined to come in the field of medical, paramedical and other areas of education in near future and transform it in the shape of a university.
Established in 2004 with just 240 students with only one institute as SIET, SGI can boast of its success with a present strength of about 3000 students with 7 Institutes in a short span of time. Laying stress on discipline, we have a very effective Proctorial board. Having the best faculties and instructors in the respective fields, we ensure to fulfill the aspirations of those willing to have a promising career and success in life, and invite them to be a part of Shambhunath Group of Institutions.