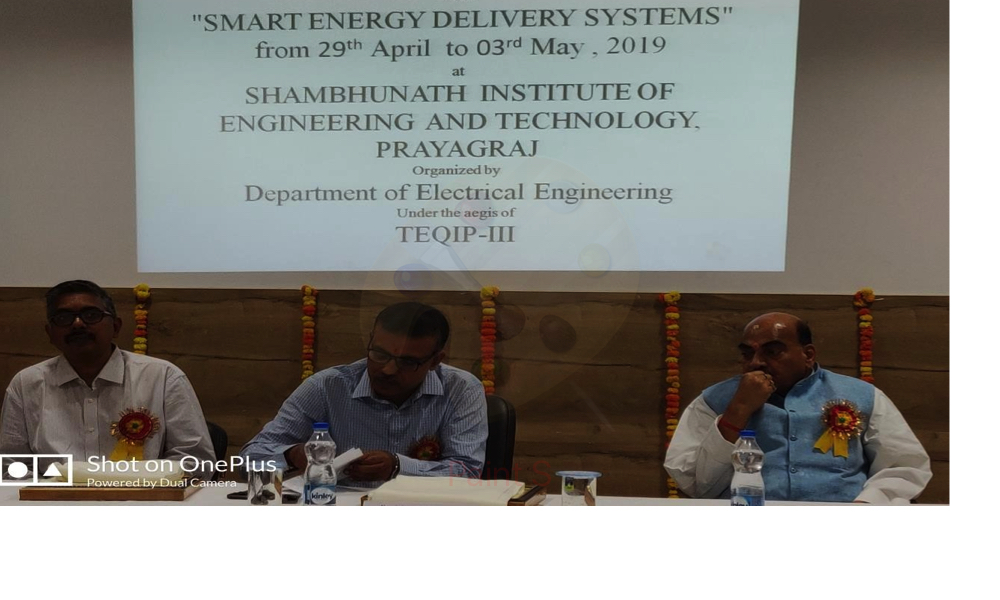 Conducted On:
Uploaded On:
View Photos »
A One-Week Faculty Development Program on "Smart Energy Delivery Systems" was held at Shambhunath Institute of Engineering & Technology, Prayagraj, which was conducted by Department of Electrical Engineering under the sponsorship of TEQIP III & Dr. A.P.J. Abdul KalamTechnical University Lucknow from 29/04/2019 to 03/05/2019.The FDP aimed to provide opportunities to faculty members and research scholars to enrich their knowledge in the field of powersystem.
This Program provided excellent opportunities to understand the concept and exchange the ideas on Smart Grid, Micro Grid & Recent Advances in Renewable Energy Technologies. Thesessions of this FDP was conducted by the team of eminent academicians and industry expert possessing in-depth knowledge in the area of recent trends in Power System and Renewable Energy. It consisted of series of lectures sessions. The FDP was attended by around 30 participants consists of faculty members and research scholars from various engineering colleges in and around Prayagraj.
After this Chief Guest Prof. Ranjit Mahanty from IIT BHU Varanasi, had given brief information about the Reactive Power Compensation and Their Control Techniques in Power System. Dr. K.K. Tiwari, Secretary SIET, encouraged the faculty members for such activitiesand emphasized on the benefits of such kind of resourceful events. He gave his best wishes for this program.
During the whole FDP schedule different technical sessions were taken by the eminent speakers of IIT Kanpur, MNNIT Prayagraj and KNIT Sultanpur. The valedictory session was on03/05/2019.All the participants from various institutions appreciated the program and department for organizing the FDP in their feedback. After this certificates were presented to the participants by dignitaries. Then, Dr. K. K. Tewari Secretary, SIET, addressed the gathering and shown his kind gratitude to the organizing department. Prof. Niraj Kumar Shukla, FDP coordinator &HOD, Department of Electrical Engineering, gave vote of thanks to all the Committee members and everyone who were the part of this one-week faculty Development Program.