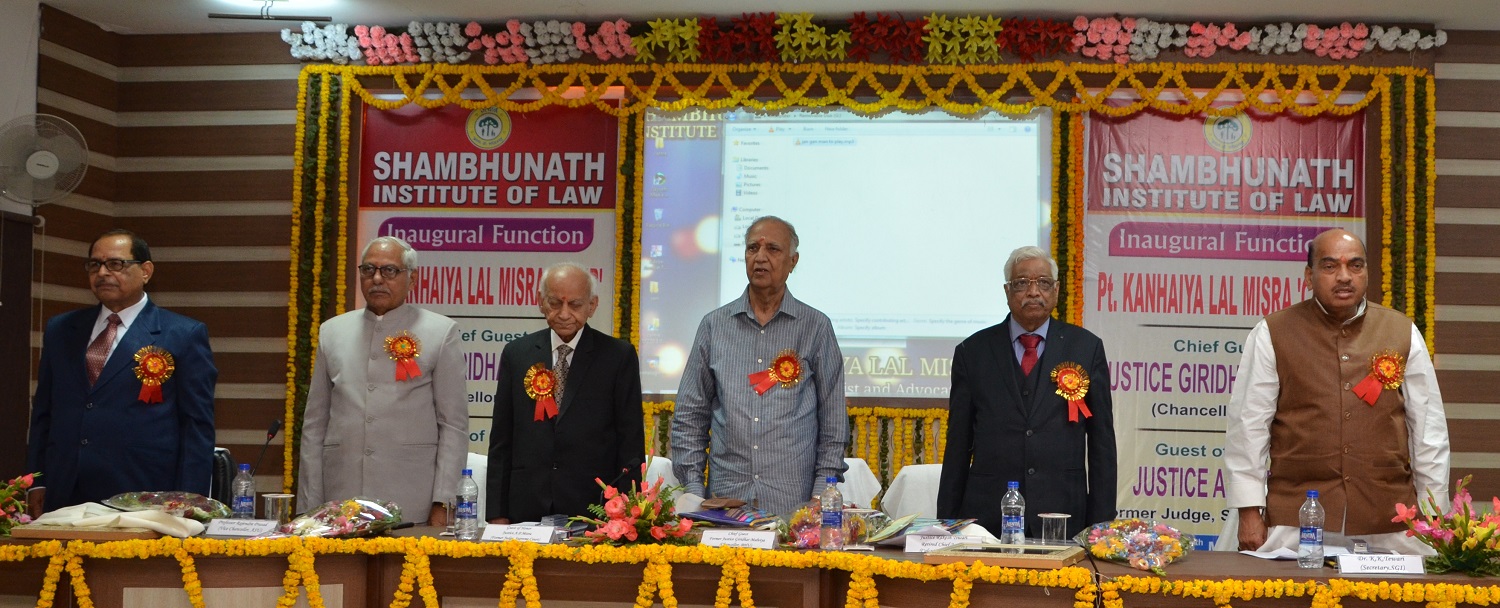 Conducted On:
Uploaded On:
View Photos »
Establishment of Pt. K.L. Misra Chair
The establishment of the chair in the memory Lt. Pt. Kanhaiya Lal Misra at Shambhunath Institute of Law witnessed inspirational talks and exhilarating stories from the life of the former. High dignitaries from legal fraternity were present to grace the occasion. Justice A.P. Misra, the son of Lt. Pt. K.L. Misra was the Chief Guest while Justice Giridhar Malviya, Former Chancellor BHU was the Guest of Honor for the occasion. Other legal luminaries included former Chief Justice of Calcutta High Court, Justice Rakesh Tiwari, Dr. Rajendra Prasad, Chancellor Allahabad State University, Dr. K.K. Tewari , Dr. B.P.Singh, Justice Ashok Kumar and Lokayukt (UP) Justice Sanjay Mishra.
Lt. Pt. K.L. Misra was a great jurist. He had a good command in English, Hindi and Urdu languages. Dr. Rajendra Prasad while giving opening remarks said that Pt. K.L. Misra was comparable to none. He elaborated by saying that one day we all have to die but one who leaves his foot prints in the sands of time is great and Pt. K.L. Misra was one such personality. He touched the lives of many during his lifetime. He further added that quest for knowledge & the curiosity to learn new things should never end because that acts like a driving force and pushes one towards greater success.
Justice Rakesh Tiwari while acknowledging the great personality of Lt. Pt. K.L. Misra drew the attention of the audience to latter's simplicity. He quoted, "Some people are born great, others achieve greatness and others have greatness thrust upon them." He expressed that upon the latter, greatness was never thrust. Pt. K. L. Misra was born great and achieved greatness through his acts.
Reiterating the words of Justice Tiwari, Justice A.P. Misra, (former Supreme Court Judge) expressed how blessed he is to be born as his son. Taking the talk further, he voiced about law as a subject & how he finds it fascinating. He apprised the audience with the life stories of his father and how his father always motivated him to do every act in the manner of truth & justice. He communicated to the audience that how his father became the centre of attraction everywhere he went. He divulged that Pt. K. L. Misra never chose to sit in the front bench at any function; rather the audience was attracted to him wherever he sat.
Justice Giridhar Malviya, the chief guest of the day, while seconding the simplicity and greatness of Lt. Pt. K.L. Misra added on to the latter's personality that he had a great concentration and did every work with utmost sincerity. He was a person of virtues a led a life of upright righteousness.
The valediction was commenced by Dr. Rajni Tripathi where she thanked the hon'ble guests and students for the interactive session highlighting the life events and achievements of Lt. Pt. K.L. Misra. The vote of thanks was followed by lunch of the dignitaries and all the guests who gave their valuable time to grace the occasion.